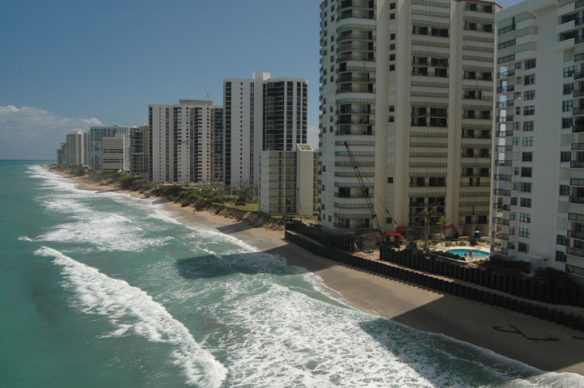 A Gulf Coast of Florida community. Captions and Photograph courtesy of:© Orrin H. Pilkey and J. Andrew G. Cooper
Excerpts;
In South Florida's war against the tides, it may be time to recognize that discretion is the better part of valor.
For the past 70 years, the state of Florida has spent more than $1.3 billion on packing sand onto eroding beaches, according to a Reuters report — far more than any other state…
Read Full Article; Sun Sentinel (06-08-2018)
Factbox: Sifting Through U.S. Beach Sand Numbers; Reuters (02-16-2018)
Column: The future of Florida's beaches and the public's right to know; Op Ed. by Orrin Pilkey (12-07-2015)
Column: High-rises spell the end for Florida beaches; By Orrin H. Pilkey and J. Andrew G. Cooper; Tampa Bay (07-25-2017)
Floridians are becoming more attuned to sea level rise and more familiar with nuisance flooding related to the rising sea. However, we believe there is less recognition that by century's end it is likely that most of Florida's major beaches will be permanently gone…
Sea-level rise: the defining issue of the century; Editorial; Sun Sentinel (04-04-2018)
No graver threat faces the future of South Florida than the accelerating pace of sea-level rise. In the past century, the sea has risen 9 inches. In the past 23 years, it's risen 3 inches. By 2060, it's predicted to rise another 2 feet, with no sign of slowing down…
Gone with the wind: storms deepen Florida's beach sand crunch; Reuters (02-16-2018)
Costs of so-called beach renourishments are a fraction of the total, measured in hundreds of millions of dollars, but the effort is crucial for Florida's $67 billion tourism industry. And while sand needs are surging, there is not enough to go around…
Can Adding Sand to Beaches Save Them? How Stuff Works (04-13-2018)
The question is, can beach nourishment keep up with the ever-increasing forces of climate change or, like Sisyphus forever pushing his boulder up the hill, is adding sand to beaches an expensive, temporary fix to a long-term problem?..
Sand washes away as quickly as it can be dumped, Bathtub Beach, FL, TCPalm News (11-17-2017)
Between 2004 and 2014, some $13.6 million was spent on beach renourishment in Martin County, Florida. About $7.1 million came from local funds — your tax dollars. In the past two years, more than $6 million from a variety of sources has been spent to renourish and restore dunes at Bathtub Beach alone…
A swath of Miami Beach was washing away. The fix? Dump 285,000 tons of sand on it; Miami Herald (03-28-2017)
To widen a 3,000-foot stretch of Miami Beach's shore that was washing away, the U.S. Army Corps of Engineers dumped 285,412 tons of sand on Mid-Beach, a $11.5 million project, funded with a combination of federal, state and county dollars….
Reinforce and Build: The vicious cycle driving development on Florida's most fragile beaches; by John Platt, Hakai Magazine (12-20-2016)
Is Beach Renourishment Worth The Money? WWAY News (02-16-2015)
Economy Winner, Environment Loser in Renourishment; Pensacola News Journal (12-02-2015)
Palm Beach Mid-Town Dredge Project, A Youtube Video (02-04-2015)
"Beach nourishment projects like this have become commonplace along the US East and Gulf Coasts. These projects have immediate environmental impacts through burial of nearshore habitat and increased turbidity during project placement.The cumulative environmental impacts of doing this repeatedly on the same beach while conducting projects from Maine to Texas is unknown. But, we should be concerned. " —Robert S. Young, PhD, Director, Program for the Study of Developed Shorelines, Professor, Coastal Geology, Western Carolina University
Beach replenishment may have far reaching impacts on ecosystems;" Phys.Org (03-29-2016)
UC San Diego biologists who examined the biological impact of replenishing eroded beaches with offshore sand found that such beach replenishment efforts could have long-term negative impacts on coastal ecosystems…
Study: Sand nourishment linked to fewer marine life, Palm Beach Daily News (04-2016)
A recent study examining the impact of beach nourishment projects on marine life should provoke further research by local scientists, according to a Palm Beach Atlantic University biologist…
Sand's end, The Verge (11-17-2016)
Miami Beach has run out of sand. Now what?..
Sand, Rarer Than One Thinks: A UNEP report (GEA-March 2014)
Despite the colossal quantities of sand and gravel being used, our increasing dependence on them and the significant impact that their extraction has on the environment, this issue has been mostly ignored by policy makers and remains largely unknown by the general public.
In March 2014 The United Nations released its first Report about sand mining. "Sand Wars" film documentary by Denis Delestrac – first broadcasted on the european Arte Channel, May 28th, 2013, where it became the highest rated documentary for 2013 – expressly inspired the United Nations Environment Programme (UNEP) to publish this 2014-Global Environmental Alert.
"Seawalls Kill Beaches," Open Letters by Warner Chabot And Rob Young, (10-03-2014)
The only answer to rising seas is to retreat; By Orrin H. Pilkey & Keith C. Pilkey; The News & Observer (10-18-2017)
Except for the timing, there is no controversy among scientists regarding sea level rise. Defending the coast and holding the shoreline in place ultimately will be futile. With a three-foot or a six-foot sea level rise, we will retreat, probably beginning within the next 50 years…