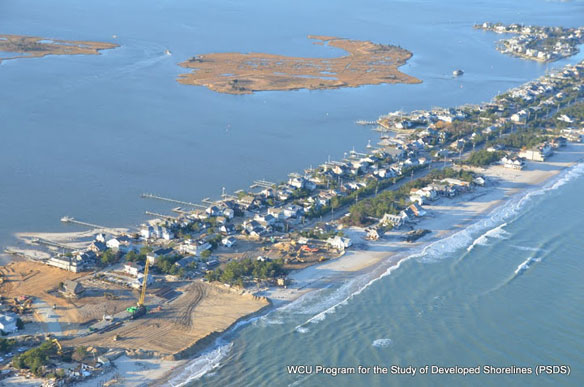 Mantoloking, NJ. Aerial pictures of New Jersey's coast, after superstorm Sandy devastated the area. Photo courtesy of: © Program for the Study of Developed Shorelines (PSDS) / WCU
Excerpts;
With the climate warming and the sea level rising, conditions are ripe for storms deadlier and more devastating than Sandy that put more people at risk.
"A warmer climate could make it easier for storms to maintain their intensity as they move out of the tropics,". "So even if there aren't more storms, there could be more storms that survive at a given intensity level and reach our latitude.
A slower storm could cause far more coastal and inland flooding damage than Sandy, and future storms could unleash stronger winds along the coast and inland.
If damaging storms become more frequent, retreat from areas with mounting repetitive losses will become a topic of discussion…
Read Full Article, Science Daily (10-06-2016)
Sandy Reminds Us of Coastal Hazards, by Robert Young
Shoring Up the Nation's Crumbling Coastlines
Hurricane Sandy pummeled the beaches of the Northeast, stripping away sand and dunes, and ploughing through seawalls. Can beaches be rebuilt to face fiercer storms and rising seas? And is there even enough sand to do it? Ira Flatow and guests discuss engineering the nation's coasts for "the new normal."
After Hurricane Sandy, One Man Tries To Stop The Reconstruction, Outside Magazine (10-09-2013)
Developers don't get it: climate change means we need to retreat from the coast, Guardian UK (15-03-2016)
It is preposterous to build in areas that are bound to flood. So why are real estate companies still doing it?..
How Your Taxes Help Inflate The Value Of Coastal Properties Threatened By Climate Change; ThinkProgress (06-05-2015)
Rebuilding the Shores, Increasing the Risks, The New York Times (04-09-2013)
We Need to Retreat From the Beach, An Op Ed by Orrin H. Pilkey