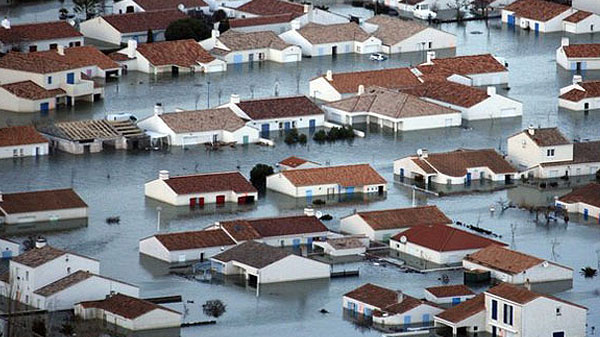 The Memory of Risks
By Claire Le Guern
The very last day of February 2010.
It is 4:00 am. Howling winds, whipping rains, infuriated seas, and eight meter high (26 feet) crashing waves, are muffling the desperate cries for help…4:00 am… Twenty nine human lives are being swept away, drowned in the frigid and salty ocean waters. They were in their sleep, in their beds, in the comfort of their home. They did not understand, they could not react, most of them too old, too frail, or much too little to run for safety and climb on the rooftops, like most of the survivors did. That very night, hundreds of survivors were trapped for hours, trembling with fear and piercing cold, in agony, and battered by rain and incomprehension. Only lit by the full moon, in the darkest night of their life, all were waiting for the emergency crews and help to arrive.
Modern mankind appears to be the only species on Earth whose propensity is to migrate its habitat counter-intuitively, solely ruled by will, preference, and or greed, against Nature's evolution.
—Claire
These are horrifying facts, eventually, yet tragically surpassed by an intolerable truth. The potentiality of such a disaster was well foreseen, and highly expected to occur. And it did, in France, one of the most developed and industrialized countries in the world, in the southwestern coastal towns of La Faute-sur-Mer and neighboring l'Aiguillon-sur-Mer. 
When daylight unveiled the disaster, Prime Minister François Fillon held an emergency cabinet meeting and afterward called the storm a "national catastrophe." French President Nicolas Sarkhozy, declared: "We have to find out how families in France in the 21st-century can be surprised in their sleep and drowned in their own houses." Mr. Sarkozy added, "We have to shed light as urgently as possible on this unacceptable and incomprehensible tragedy."
As much as this tragedy is utterly unacceptable, it is all too comprehensible and sadly, previously announced by warnings from many scientists, locals, and even more relevantly by an official 2008 report from the Vendée Equipment Department, DDE. The risks of marine submersion were known to the Vendée DDE, which strongly addressed and questioned coastal safety, citing in particular the fragile sea walls in L'Aiguillon-sur-Mer and La Faute-sur-Mer, as well as their existing location and development in flood-prone areas. "There is no doubt about the vulnerability of the Vendée coast to marine submersion".
La Faute-sur-Mer and l'Aiguillon-sur-Mer beaches are the most southerly beaches on the Vendée Atlantic coast. Blue flagged for cleanliness, gently sloping with fine golden sand, these beaches attract a myriad of visitors from around the world, each summer.
On the Atlantic side, 8 kilometers of fine sand beach and dunes pass by the town of La Faute-sur-Mer, located on a 10 kilometer long and 2 kilometer wide Peninsula, with the Atlantic Ocean on one side, then onward the Pointe D'Arcay. On the other side, there is an estuary and the Lay Bay with the Lay River. In front, lays l'Aiguillon-sur-Mer, the neighboring town. La Faute-sur-Mer fragile environment of sand dunes is stabilized by 200 hectares of pine forest and Holm Oak (evergreen Oak) which were planted nearly 150 years ago. This forest domain is continued by the Reserve Ornithologique of la Pointe d'Arcay.The Beach in the town of l'Aiguillon-sur-Mer is based around two man made lakes and has been developed with families in mind.
These coastal communities, however, have been built on areas that used to be swamps. The towns are 2 to 2.5 meters below sea level, on a polder, in other words, in a bowl. A 5 kilometers sea wall, the "Digue du Géni", was built in 1860 at l'Aiguillon, and originally meant to protect the land for agricultural purposes. As for la Faute-sur-Mer, a sea wall was built in 1929.
L'Aiguillon-sur-Mer is the French capital of the mussel industry with over 20 percent of the nations production being cultivated in the estuary of the River Lay and the Anse de l'Aiguillon. The main attractions of the coastal towns besides the beaches are the Nature Reserve, and the off shore mussel farms.
Not anymore.
In the early hours of February 28th 2010, a well-forecasted storm named Xynthia swept through France with powerful winds of 160km/h 90 miles, leaving a trail of devastation, and 53 victims. About half the French death toll was attributed to marine submersion and breach of the dilapidated and too low sea walls of La Faute-sur-Mer and l'Aiguillon-sur-Mer, allowing waves and sea waters to flood the villages, trapping people in their homes.
Brice Hortefeux, France Interior Minister, declared, "What happened in Vendée, was an exceptional combination of facts." Corroborating observers such as, P.Bouteloup, a physicist who specializes in tides, or Eric Mas, director of Météo Consult, said that a chain of events was to blame as well as "extraordinary coincidences": unusually strong winds, enormous waves and, above all, very low atmospheric pressure drawing the sea level even higher, (on that full-moon night, the tide measured 105 to 108 on a scale of 20 to 120) creating a potentially fatal combination for these communities located on the Atlantic coast.
Unfortunately, in light of what was previously known by the DDE, even though not ordinary, these events were obviously far from being just and simply coincidental, and actually followed an all too announced plausible, and furthermore, predicted scenario.
France has up to 9,000 kilometers (6,200 miles) of sea walls, with some of them built in the 17th century, according to Secretary of State for Ecology, Chantal Jouanno. More relevantly, about one tenth of them, 1,000 kilometers (620 miles), "can be considered a risk". The European Center for Flood prevention, estimates that of the 9,000 kilometers of sea walls, at least 3,600 kilometers have no existing or identifiable owners, thus no responsible entity to maintain, rebuild or repair the dilapidated or inadequate sea walls.
 "The sea wall that broke dates back to the Napoleon era. Either we build (new) sea walls, in which case they need to be taller, or we have to build further inland," said Philippe de Villiers, President of the General Council of Vendée.
When sea walls or levees are needed, it is obviously to "protect" a land naturally flood-prone. And indeed, how strong can a sea wall possibly be in comparison with the unfathomable power of angry waves? How high can sea walls possibly be? Scientists are warning us that, due to climate change and rising seas, storms are expected to be stronger, fiercer and more frequent than ever before. The France Nature Environment group says the recent tragedy should serve as a "shock treatment" to the nation. The group added, "By 2100, global warming will cause sea waters to rise by one meter, allowing a small storm to do the same damage as powerful Xynthia did."
A "Plan Digue" (a Sea Wall Project) has been ordered by the Government to be completed within the next two months. Financing and responsibilities are to be reassigned and already the pre-plan opens doors to polemics, in term of responsibility, financing, costs of repair and construction, as well as to fundamental debates.
Sea walls are currently owned by eclectical entities: towns, syndicates, even individuals. The State is not much involved in ownership (1,000 kilometers of levees, mostly on La Loire river). Furthermore, most of the sea walls and levees are owned by entities that do not have the necessary financial power to maintain them. According to Anne-Marie Levraut, director of natural and water risks, Ministry of Ecology, most often the existing sea walls were built to allow farming, then population rose but the response did not rise to the new situation.
The Plan Digue is expected to contain a five-year financing project; 1 million euros per kilometer is the estimated investment on building and repair of the French sea walls. However, a fundamental debate is needed as per the sea wall's relevance as acceptable defense in itself, specifically when comparing to the Netherlands' levees never-ending reviews to see whether standards should be raised in light of various threats. In 2008, the Netherlands announced more than 100 billion euros (then $140 billion) in new spending through the year 2100 to prepare for the effects of global warming.
As much as the sea walls were a large part of the problem, solutions should not be built up solely on such a questionable base. Squandering taxpayers money and more catastrophes are to be feared.
As l'Aiguillon mayor, Maurice Milcent, said "The breach in our sea wall, that was not the problem! The waters just rose at once, overflowing our communities, built on swamps, on a flood-prone area. The problem has been known since Napoleon's era " and added, "According to our regional construction codes, houses had to be "fishermen style." Tragically indeed, at L'Aiguillon and La Faute-sur-Mer, most of the houses located right on the shorelines, were one story homes, to conform with local plans and legislation forbidding two story houses. This explains in part why so many drowned, unable to escape to higher levels.
The 2008 DDE report, preceded by published studies as early as 1999 and 2001, clearly stated that Aiguillon and La Faute-sur-Mer have been built: "On flood-prone areas, on soil temporarily won from the sea, without taking into account the "memory of risks". That is where the problem resides and the solution rests! Unbridled urbanization on risk-prone areas along beloved, yet, hazardous coastlines.
The storm has definitely exposed major flaws in a well-developed western country's housing planning.
Flooding is the number one natural risk in France. One out of three communities are potentially threatened, i.e. 5,1 million French people.
The last fifty years, the rate of urbanization of coastal and flood prone areas has dangerously increased. La Vendée, as most other coastal regions, has experienced an increase in popularity, attracting a population of more than 80,000 in the past decade, generating the construction of new houses perilously close to the country's poorly protected shoreline. Many retired citizen flock to the western coast for its clement climate and more affordable lands.
As most industrialized and developed countries, France has adopted environmental laws addressing risks factors and management in determined areas. The Littoral Law of 1986 forbids construction at less than 100 meters from shoreline for buildings, and 2 kilometers for roads. Yet exemptions could too easily be obtained. A 1995 law, Major Risks Prevention Plan law, (La Loi Barnier du 2 Février 1995) was adopted, completing a 1982 law. It defines risk zones from white, to blue (dark blue and light blue) and red, and regulates construction interdiction levels from strict to permissible with specific requirements (regarding architecture and material used). The law was meant to install a flexible approach that would easily adopt to the needs of local and regional authorities. Under pressure, local executives, Mayors and General Council Presidents, continue to deliver construction permits, reluctant to recognize and comply with zoning. Since 2007, the French Government has had authority to intervene by expropriating any construction should a clear and present danger exist.
The Secretary of State for Ecology reported that 860 communities are below sea level in risky areas, but only 46 have Risk Prevention Plans defining zones where building is permitted, calling that "very insufficient". To date, only 7600 Risk Prevention Plans have been approved. Since 1999, 100 000 homes have been approved to be built in coastal zones, known to be flood-prone.
"Each time a house is built, it's money for the community," said Léon Gendre, the mayor of La Flotte-en-Ré, an ancient town on the Ile de Ré, impacted by the flood as well. "Money is running all this."
Chantal Jouano added, "We have to tighten up the rules regarding construction in flood-prone zones and behind sea walls, regardless of pressures." President Sarkhozy declared that, "A reflexion must happen on urbanism. We cannot be lenient with safety."
Before this very catastrophe, were all the cards not already on the table?
Under mounting scientific and environmentalist awareness and reports, as well as occurrences of announced and preventable disasters worldwide, concepts such as "the territorial intelligence" (see link) are developed. While opening necessary concerted actions between politicians, scientists, environmentalists and the people as a whole, implementation of knowledge to practical, sustainable and safer territorial development is promoted.
The point of all discussions should remain focused on stopping unbridled urbanization and preventing avoidable deaths and the gushing influx of taxpayers money by replicating past mistakes or investing in palliative, political and unadapted quick-fix solutions.
Modern mankind appears to be the only species on Earth whose propensity is to migrate its habitat counter-intuitively, solely ruled by will, preference, and or greed, against Nature's evolution. Attempts to control disharmoniously the ultimately uncontrollable forces of Nature bear too costly a price for us, and future generations.
"We must be reasonable, and build further inland." said Philippe de Villiers. We must be courageous as well, and seek implementation. In a speech to the victims, on March 16th, President Nicolas Sarkhozy declared he would ensure that, "All lessons were learned from this disaster, and would request local authorities to prevent zones devastated from being reoccupied." To date, 30 construction permits recently granted in La Faute-sur-Mer and l'Aiguillon flood-prone areas, have been revoked.
Today, the memory of the tragedy is vivid and raw, as France is grieving and solutions are sought. In less than two months, the official report will be released, sadly titled "Plan Digues"… Will the "Memory of Risks" prevail?
"The definition of insanity is doing the same thing over and over expecting different results." -Benjamin Franklin.
May cease the insanity, as the Seas are rising… ineluctably.
---
Latest Developments:
Xynthia Deadly Storm: The Trial Opens
Four years after a deadly storm devastated part of France west coast, killing 29 people in La Faute sur Mer town, the trial opens. Four elected officials and a real estate agent are indicted for aggravated manslaughter…
Le maire de la Faute-sur-mer René Marratier placé en garde à vue, Le Figaro, April 13th 2011
Les investigations sont menées dans le cadre d'une information judiciaire ouverte aux Sables d'Olonne pour "homicide involontaire", "mise en danger de la vie d'autrui", "abstention de combattre un sinistre" et "prise illégale d'intérêt."
Xynthia : a Year Later, in Coastal Care
Xynthia : les chiffres de la tempête, un an après, Le Figaro
500 million Euros Plan to Strengthen Levees in France
1500 Homes are ordered to be destroyed, Euronews